Meet a Few of Our Happy Website Design Clients
Though we love to execute and launch web design projects for clients all over North America, New Jersey is our home, and as a local web design agency, we need to show love to our local small businesses.
One of the most critical aspects of our web design philosophy is creating a relationship with our clients. We take the time to learn about their businesses, their customers, and what they hope to achieve with their website. This personal attention helps us create beautiful and effective websites that help our clients achieve their goals.
We're proud to have worked with some great local businesses. These five clients asked our highly experienced team to develop a company website that helped them build their brand and generate new business.
Five Projects by Your Local Web Design Company
Top Credit Consulting Website
After a complete rebrand for Top Credit Consulting of Passaic, NJ, the next goal was to update the brand online.
When dealing with consumers looking to get their credit fixed, a high level of confidence and trust needs to be portrayed. This became the goal of this new web development project.
We completely redeveloped the website using the new logo design and brand guidelines. The focus was on creating a web design with a modern look to draw in their target audience. Once we had the web design locked in, our team worked hard to populate the site with relevant and engaging content to connect with potential customers.
After the design approval, this upgraded website in WordPress development included a few standard and custom features. For example, the team at Top Credit Consulting wanted to showcase client case studies & reviews, a link to a third-party portal for clients, and a dedicated page for every service.
To enhance the work done on the website and increase brand recognition, we were tasked with executing a short-term technical SEO campaign to accelerate search engine rankings.
The final product was a website design that was modern, credible, and showcased the Top Credit Consulting brand in the best light.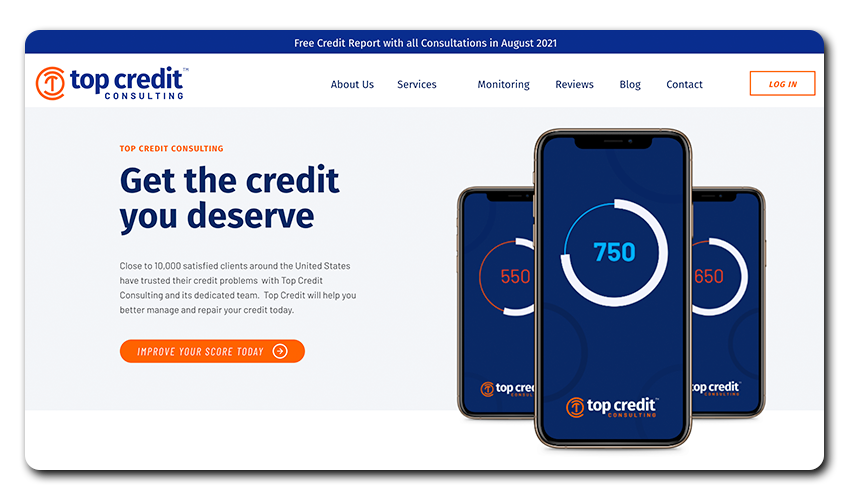 Excel Auto Store
Excel Auto Store has been a client of ours for over 12 years. Our design agency has developed the entire brand for Excel Auto Store. Everything from the logo design and print materials to multiple websites and direct mail marketing.
But this time, Excel Auto wanted to completely revamp its old website, which we launched back in 2014 but with a couple of updated features.
We started by redeveloping the website design and then built it on WordPress. The new website design is sleek with a corporate look, but most importantly, it's responsive and looks great on any device. We also updated the color scheme to match their new branding, implemented across all print materials.
Excel Auto Store does a great job on social media, which helps him generate leads. And since he's constantly on the move, he needed an easy way for leads to complete credit applications. So we helped him by creating custom website forms that can be completed on mobile devices and would provide them with a PDF of the completed application.
To showcase the activity on his Instagram, where he highlights every customer who purchases from Excel Auto Store, we created a gallery page that is an Instagram feed of all of those posts. This feed updates almost instantly.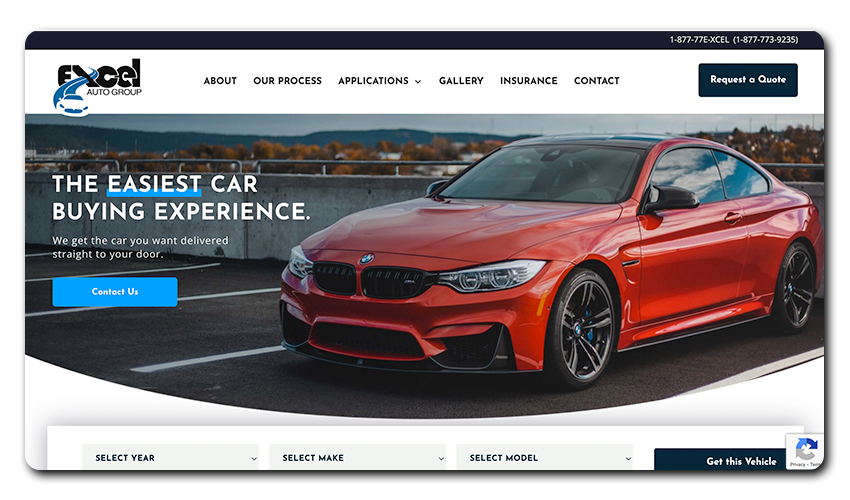 Caliber Health Plus
Caliber health plus launched its brand in 2015 and has grown its brand consistently. We have been there every step of the way, but constant change comes constant growth.
Along with logo and branding design updates, Caliber Health Plus required a complete web design update. This project was simple yet complicated. The website design didn't need a complete overhaul, but we needed to make the design updates to follow the new brand design. The intricate work came when we had to completely duplicate the website and create a Spanish version of the website.
The Spanish version of the website required a copywriter to thoroughly review the content then translate it into the Spanish Language. We then had to format and design it to look like the English Website.
Once the website design was complete, we developed an SEO strategy that targeted their local market. The search engine optimization strategy for this website was created to serve customers in two languages.
By also including the Spanish Language in our SEO Strategy, we can accelerate the brand's growth and overall #1 ranking Keywords on Google Search. Currently, Caliber Health Plus holds the number #1 rank on Google search for 117 keywords in their search engine marketing campaign.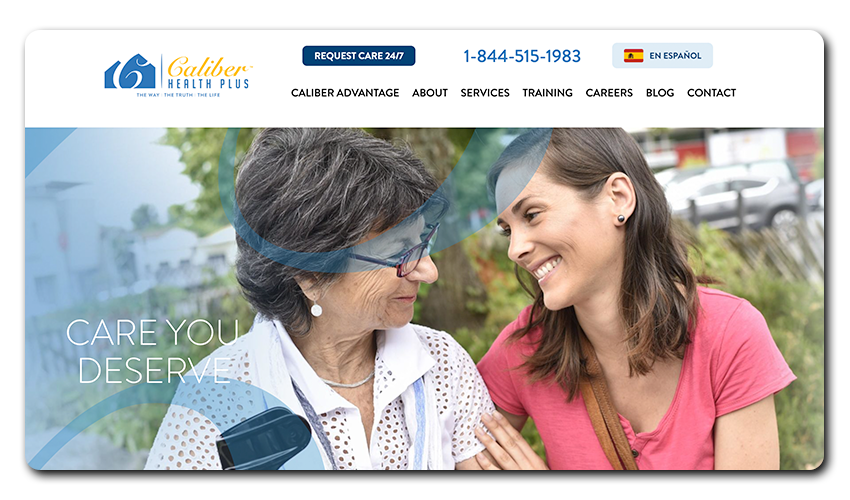 Main Street Title
As one of the leaders in title insurance in the NY/NJ Metro area, Main Street Title wanted to shift the brand's perception. They long relied on referral business and excellent service. But like every business in 2018, competitors in the area were now showcasing their services and brands because of social media.
The complete rebrand of the company brought the company out of the 80s and into the 2010s, including the design of the new company website. The web design was clean and professional. It showcased the brand in the best light and now makes the process of ordering title insurance more straightforward and more convenient for consumers.
The Main Street Title website included custom mortgage calculators that are mobile responsive and customer reviews showcasing their client's satisfaction.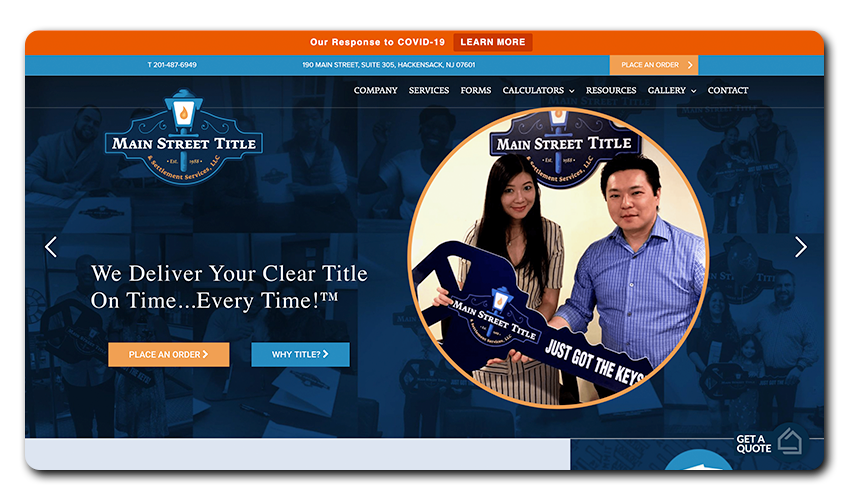 Paisanos Restuarant
Paisanos Restaurant has been a staple in the Rutherford, NJ, area for over 20 years. But with the increase of new residents and people coming in droves into the North Jersey area, they want to ensure they're around for the next 20 years.
Part of this goal included updating to a new website design from the previous website development our team executed almost seven years ago. This updated web website design now has a fresh look and features all of what it has to offer to new and existing clientele.
The new features include an events tab with a dedicated page for all of its on-premise entertainment and hosting options, online ordering options, and self-service options for gift card purchases.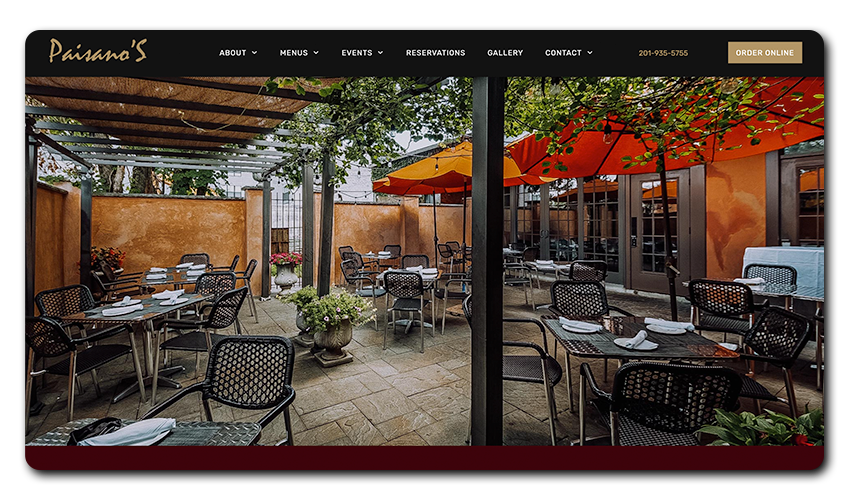 What's Included In Every Website Development Project
As a full-service agency, we're able to look at every website development project from every angle. From a design agency standpoint, we care about the look of the website. From the lens of a digital agency, we understand the importance of data capture and search engine optimization.
Here are 5 Things We Include in Every Website Project
Project strategy – Here, we review the project's goals and understand what the perfect website should be for the client.
Website Wire-framing
This is where we begin to structurally layout your website. Think of this as an architectural plan for your website. Like building a skyscraper, we need to know where everything is placed in your responsive web design.
Branded Web Design
This is where we take the wire-frames, and our web designers begin the design for your website. We focus on delivering a unique experience that accurately reflects your brand.
Responsive Website Development
After the web design is approved, we move into website development. Our developers hand-code responsive websites that are made to work on mobile devices first and are Search Engine Friendly (SEO).
Testing & Troubleshooting
Before your website goes live, we take a team approach to review your website. We review the website on all desktop, tablet, and mobile placements. And check for any design, development, and functional issues.
Search Engine Optimization Readiness
Search Engine Optimization is a separate service, but our web development team completes a checklist of core SEO needs a website should have upon launching. This includes SEO-friendly URLs, optimized website speed, properly tagged images, etc.
Did you search 'Web design company near me?
If you're in north New Jersey, then there is a good possibility that we came up at the top of your Google Search. So click on our link and let us help you. If you're not in this area, when you're looking for a local website design agency, it's essential to find one that understands your business, brand, and target audience.
At Pix-l Graphx Inc, we have been offering web design services for over 15 years building experience working with businesses in various industries. As a result, we understand the importance of creating a website that is not only beautiful but also easy to use, ready for digital marketing, and optimized for mobile usage.
If you're looking for a local website design company, call us! We would be happy to chat with you about your project and see how we can help.