Genesis Cleaning Services has been a client of our for many years and it was time to … clean up … their marketing initiatives.
The founder of the Genesis Cleaning Services had a short consultation with Alcides, she arrived with a concept, objectives and faith in our expertise. Concluding the consultation, Genesis Cleaning Services embarked on disinfecting their current marketing initiatives by implementing a new design for business cards, postcards and their website. A social presence was one of Genesis' objectives; we decided that a promotion would aid in building their fan base.
To unsmudge the Genesis Cleaning image, we creating a new color palette while still keeping their original color of purple. This new color palette became a big part of their look and was used consistently across each of the designs.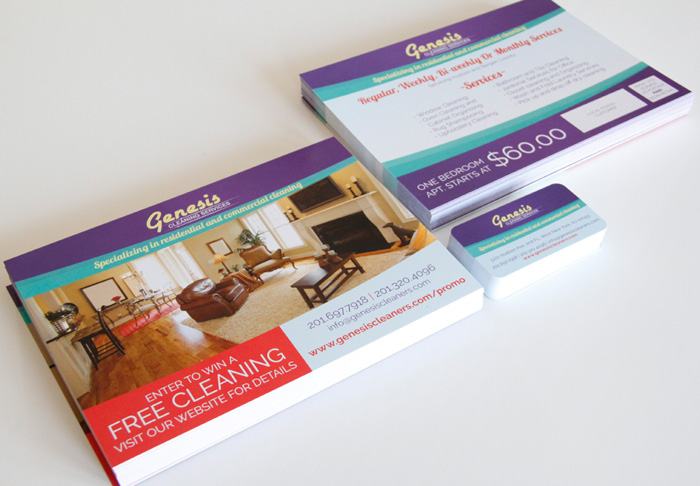 Our first task was to create a clean business card; while still listing numerous services offered. We seeked to have a visually appealing business card that screamed freshness!
Secondly, similar to the business card, we designed a spotless postcard. This postcard would include a promotion of a free cleaning that would move traffic to the newly improved Genesis Cleaning Services website. This postcard would then be sent by Every Door Direct Mail which is designed to reach every home, every address, every time.
Genesis Cleaning Services' website was originally very clean, however some might of said it was bare. We wanted the website to sparkle; we incorporated bright colors, photos of Genesis Cleaning Services in action, easy access to estimates and detailed company information.



Visit the website: www.genesiscleaners.com
The web development task was two fold. The first part was to create website content in a way that would be picked up by search engines for local searches. The second was to design and develop the website.
In completing the web development, we created detailed profiles on some of the top local online directories. We ensured that Genesis Cleaning Services gleamed over competitors.
Needless to say, we enjoyed sanitizing Genesis Cleaning Services' marketing initiatives!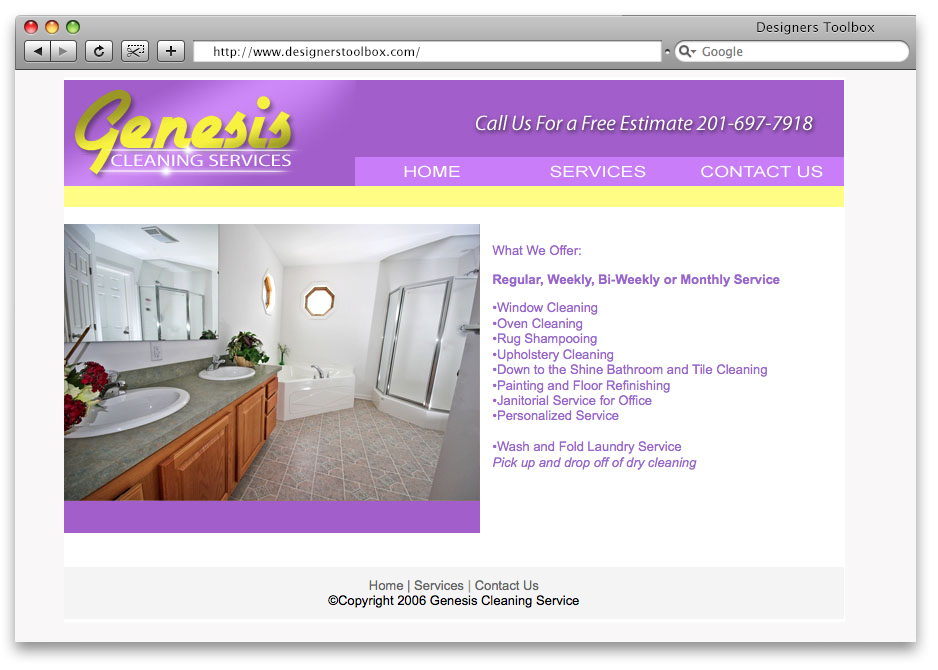 Genesis Cleaners' old website.