If you're a businessman, or woman, or just an amazing artist, giving out your business card is just a cool part of doing business. But more importantly, its one of the first things people receive from you and it kicks off the perception of your brand. So why not make that moment memorable and pop with a set of amazing business cards.

Over the past couple of years, we have been creating some really cool business cards that our clients are getting rave reviews on. Some printed on wood, painted edges, and even some with a touch of goooooolllllddd! (Sorry, I had to. I instantly thought of Mike Meyers playing Goldmember in Austin Powers.) Check out these 9 beauties. Full of life and extra color.
Ferrazz Hair Frosted Plastic Business Cards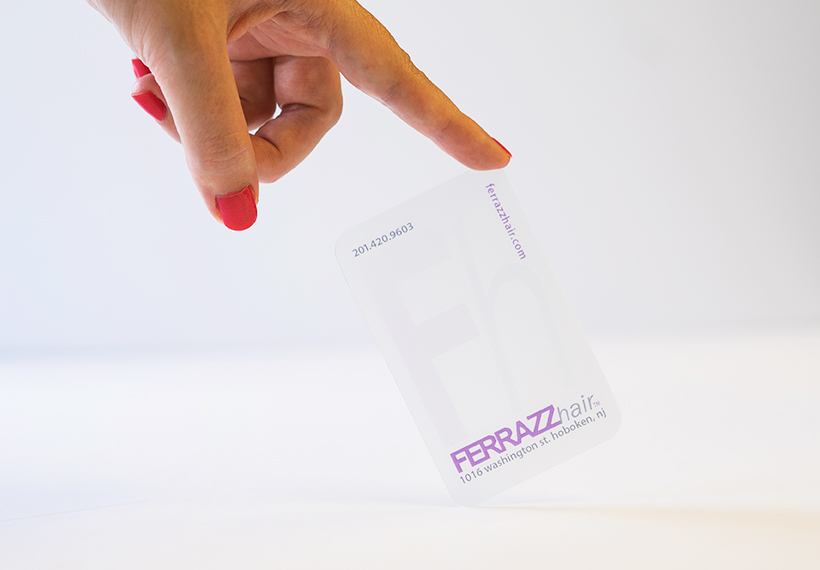 This frosted business card printed for Ferrazz Hair of Hoboken, NJ. 20 pt. plastic frosted business cards with a full-color print. We love the light and transparent Fh.

Gold Coast Luxe Real Estate Business Cards


Clean, gold foil, gold paint around the edges and, though it's very faint, a nice emboss on the back side of the card. The client loved the gold foil on his name. Glad you loved them, Juan!

Agaveros y Tequileros Embossed Business Cards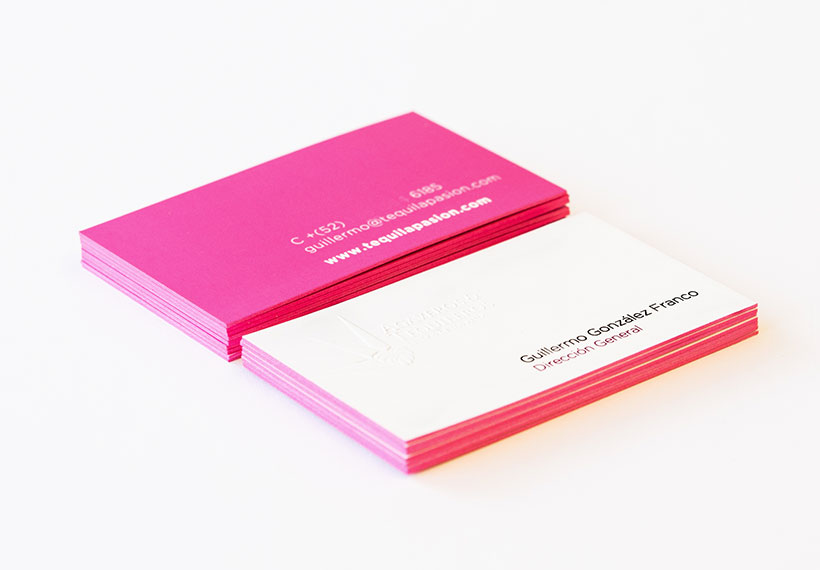 Simple with a lot of pop! This card was printed for Guillermo Gonzalez Franco, the Most Interesting Mexican Man In the World! Seriously Google him. Their signature product is a Naturally Pink Tequila called Tequila Pasion Blanco Rosas, click here to check it out. When handing out his card he wanted to entice people to notice the pink and possibly even ask about it. Mission accomplished.
Wood. Yes, wood! Wooden Printed Business Cards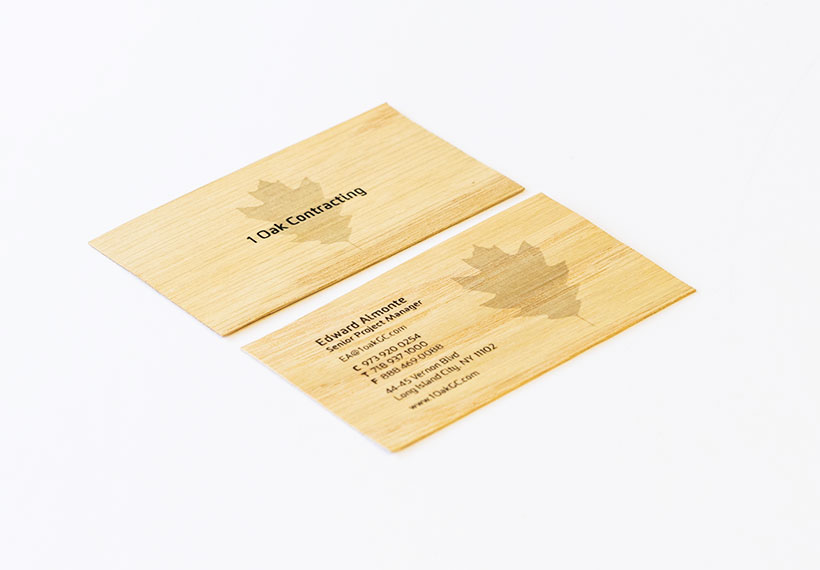 We know these are definitely something not everyone sees. These are wooden printed business cards printed on really thin sheets of wood and adhered to give it a tough rugged feel. You'll catch a splinter in your finger if you try to tear these in half.

The Lobby Painted Edge Business Cards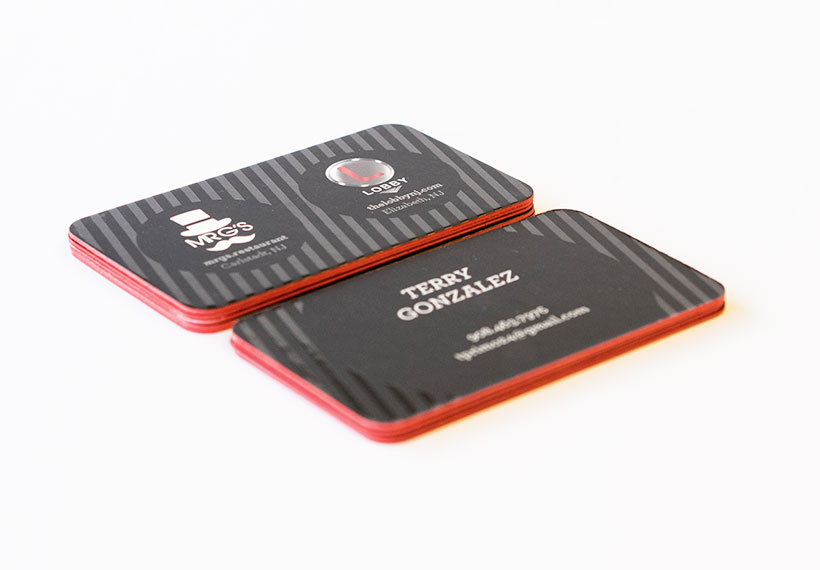 Advertising two businesses on a card can be a tough task sometimes. We use the spot UV to cleverly divide the two business owned by Terry Gonzalez. The red painted edge business cards really pop when you stack them up.

Silver Foil & Blue Foil Look Great on Black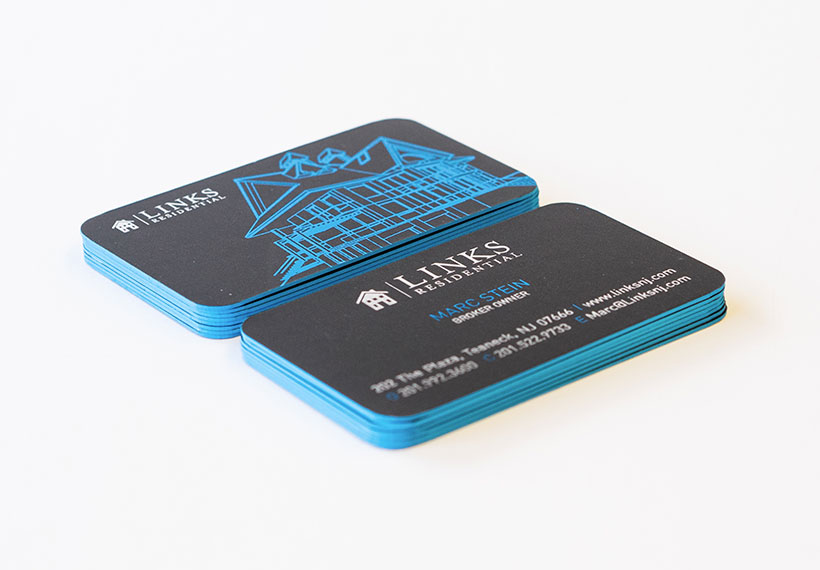 This has to be one of the nicest business cards you'll ever see. Silver and blue foil on black with a light blue painted edge. Wow! We just love watching the colors transform from a light to darker versions as we move it around in the light.

Chef Ronaldo Linares. Chef. Author. Speaker.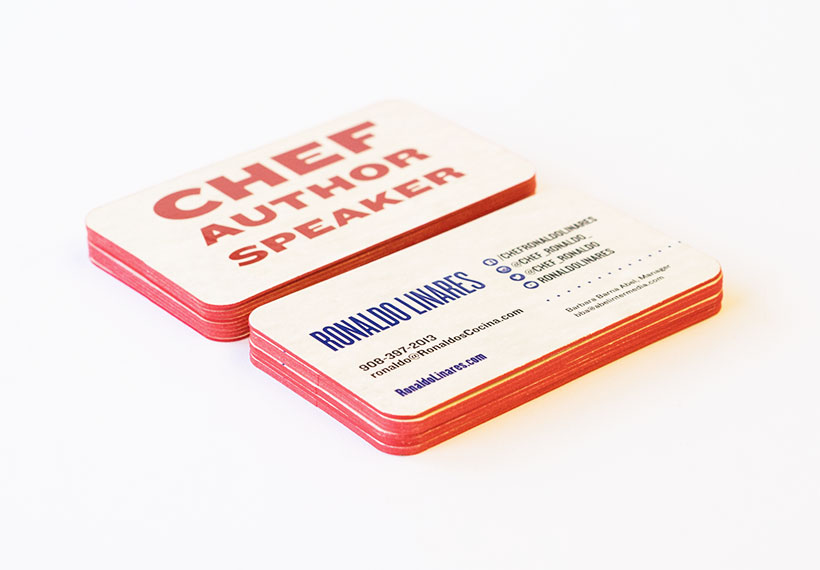 Chef Ronaldo is always cooking up a storm in the kitchen while dancing salsa. TOMA! This amazing business card belongs to our good friend and client Chef Ronaldo Linares. Keeping the pride with colors of the Cuban flag we gave this one a red painted edge on a 32 pt cardstock to give it some pop.

Excel Capital Funding. Strong. Powerful. Serious.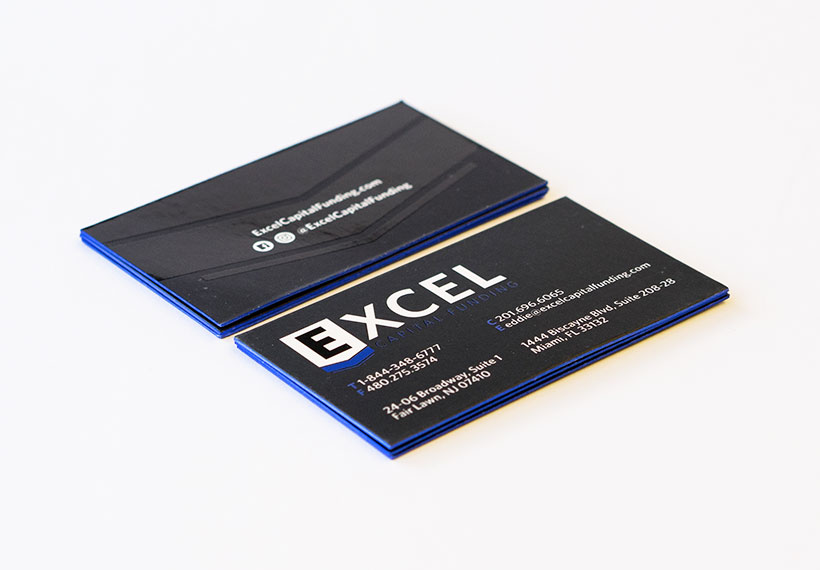 This great looking card has a strong and sharp electric blue edge. That, with the spot UV gloss, are sure to make a strong impression with any client looking to get funding for their business.

A Great mix of Gold, Spot UV, and Foil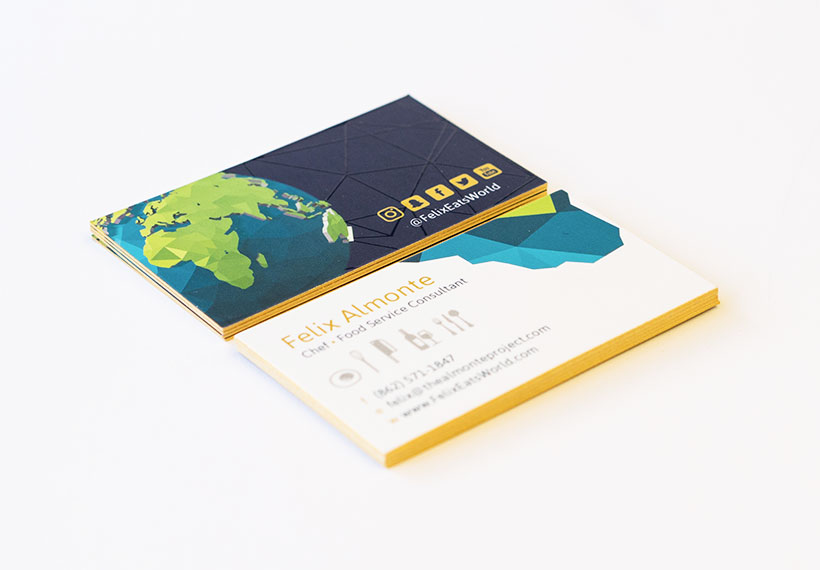 A good way to finish off this post is with Felix Eats World business cards. We see the world eating these up. This cool design was finished off with Gold Edges, Gold Foil, and a Spot UV gloss with a geometric design.

We hope you guys liked these 9 amazing business cards. If you would like more information or samples, just shot us an email at info@pixlgraphx.com