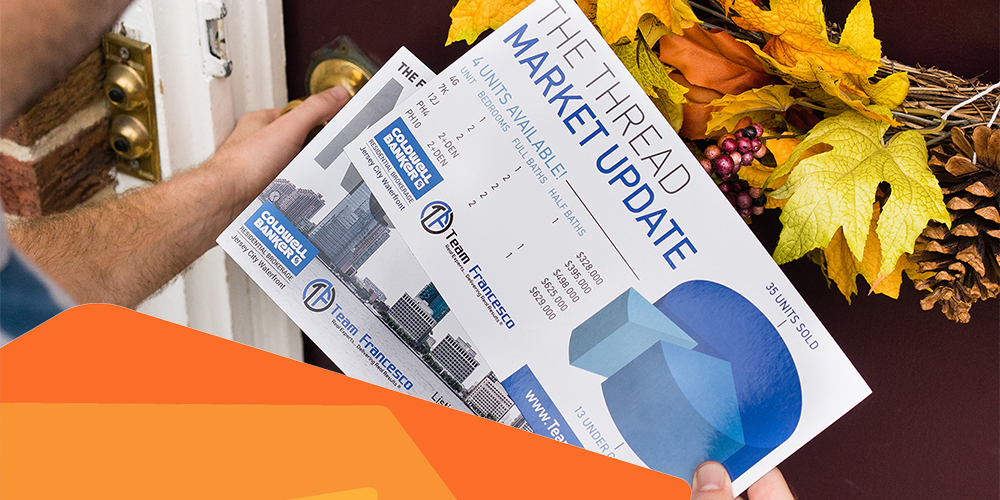 Some say they're effective, some say they don't work. But postcard mailers are still here and we think they're still a great tool for realtors to add to the marketing mix.
The nay-sayers push the fact that the world has gone digital and all marketing should be done online. We're not here to fight you on that fact. You should continue to do social media advertising, Google PPC, SEO, local seminars and events. In fact, we can even help you with those services as well. But a blast mailer to a targeted area can, when paired with the afore mentioned digital marketing options, can further increase brand awareness and potentially get your phone ringing.
There are a couple key factors that matter when creating an effective Every Door Direct Mail (EDDM) mailer piece.
Have a Clear Message
Big headlines are important. Just Listed, Just Sold, or Market Report should be nice and big. Don't over load the mailer with text. People might not read it.
Good Quality Pictures
A good headshot, great quality property images, and good quality location and landmark images help make the postcard. If you have an iPhone or Samsung Android you should be able to take amazing pictures on your own. We have done some great pictures on the fly for clients with an iPhone 8+.
Good Content
As the Realtor you have the all knowledge about the market you service and/or property you have just Listed or Sold. Even though you might not feel comfortable or think you're not a writer, you need to at least have the main points of the content that needs to be developed. DO NOT leave it up to your graphic designer to write your content. Make sure there is a content writer on staff. I am a designer and I make mistakes. And, the grammar and tone I think sounds good might not be what a consumer would understand.
Here are 5 Real Estate EDDM Postcard Designs made by our team. 
Team Francesco – Jersey City, NJ
ReMax 9 Realty – Howell, NJ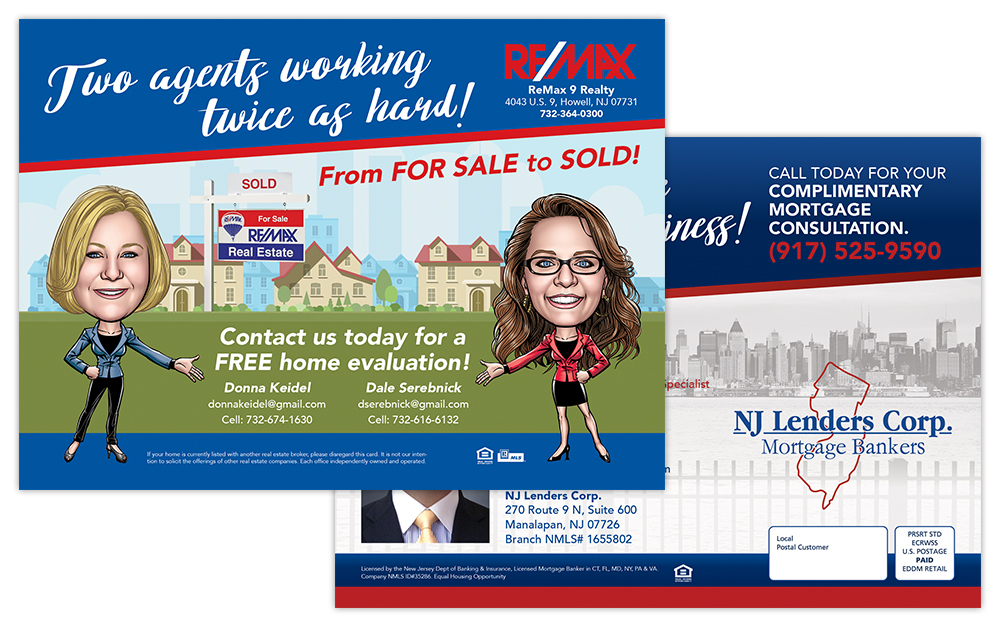 Antonio Henriques of AHM Team/Sotheby's International – Springfield, NJ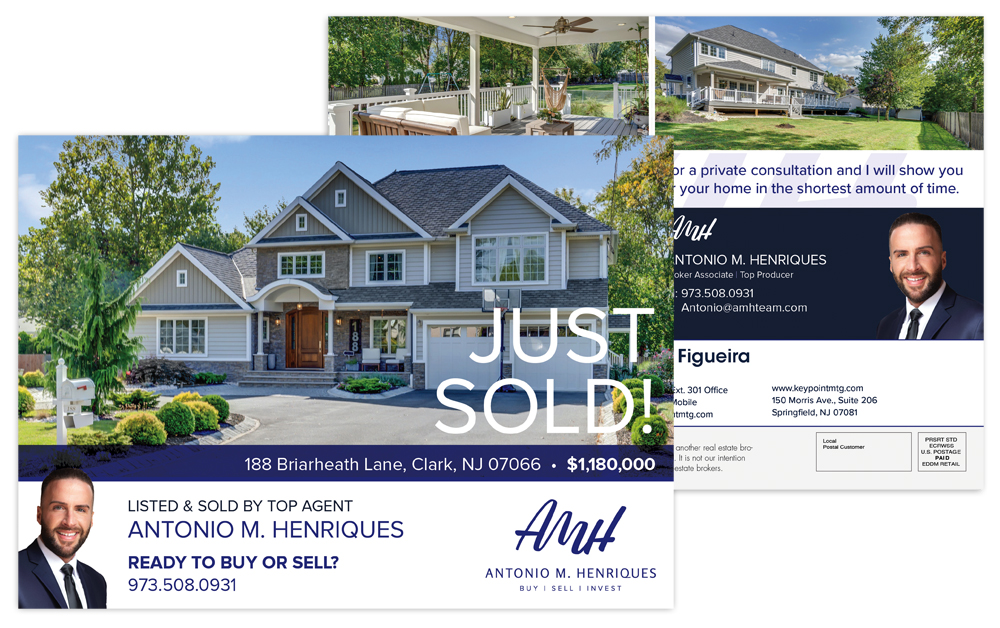 Century21 Innovative – Hoboken, NJ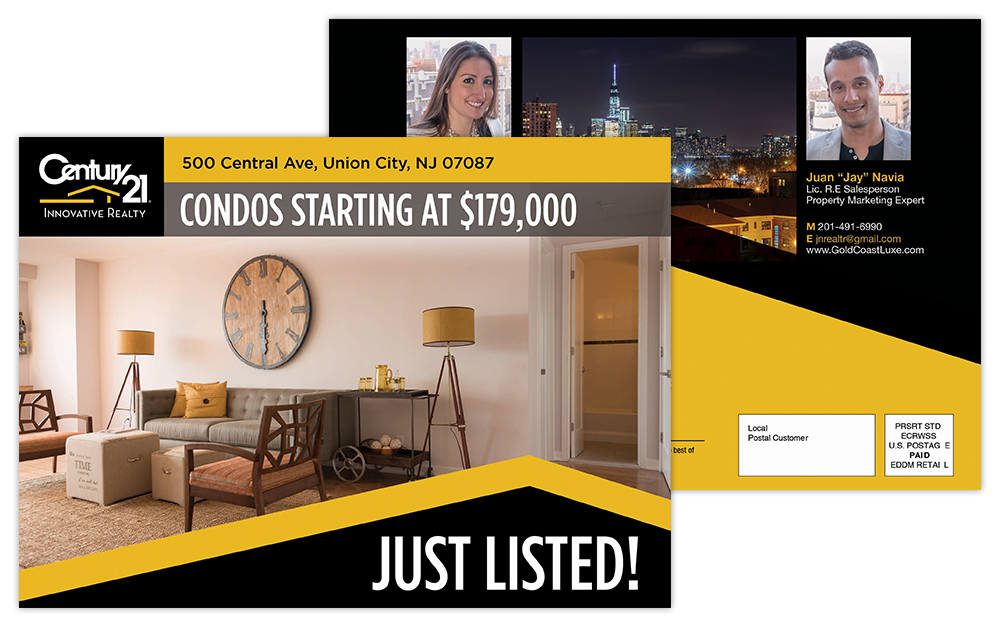 Angela "Zorro" Juarez or Better Homes and Garden – Cranford, NJ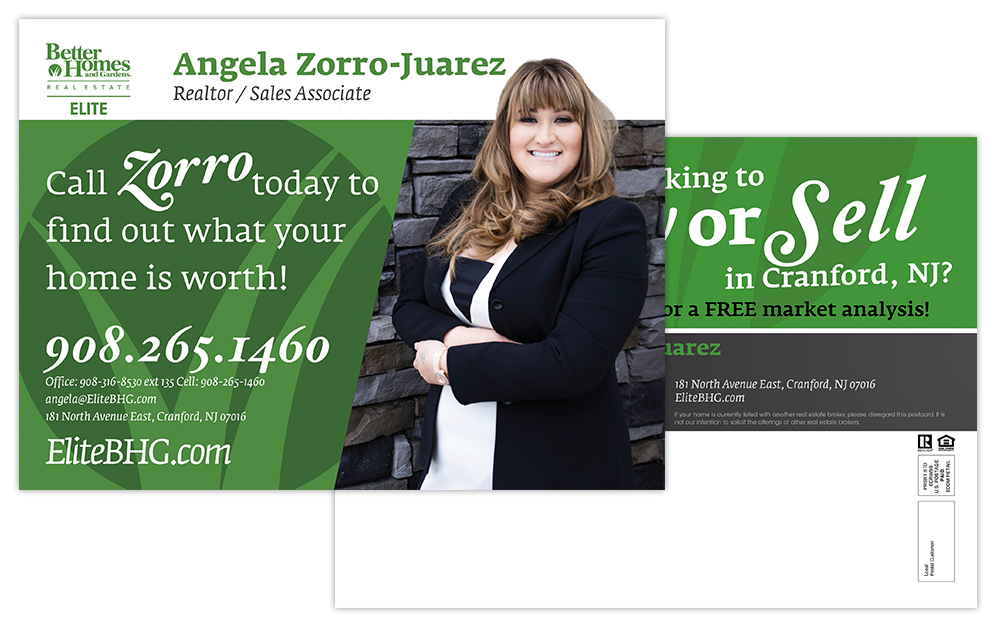 Hopefully you liked these designs. If you would like more information on getting your own real estate EDDM postcard templates, you can connect with us via phone (201) 553 1200 or email us at info@pixlgraphx.com.