What do you do when your google my business page is deleted, whether on purpose or by accident? Meaning all of your reviews, gone. Google maps, gone. Your once-dominant top rank as the premier provider of your service in your city, gone.
This isn't a scary story. This is an actual situation we helped fix for Family Dentistry of Rutherford, NJ. The solution was an dentistry SEO campaign rebuilding and improving their local search.
We took the first step to file a support case with Google to see where the problem originated. This helped us understand whether we could retrieve the deleted page or had to start from scratch.
Luckily, after several days of reviewing, communicating with Google Support, and updating our permissions and security on the account, we got the page back up. But there was a major issue. Though the page was up, the client was not coming up on local searches, specifically in Google Maps.
The next step was for us to implement a complete SEO campaign. This campaign included:
A full keyword strategy and complete SEO audit
We created a list of 100 keywords that focused on the services they offer and their geographic location. Once the client approved this list, we created a road map for the implementation of this list.
Content Development
Once the keywords list was approved, we began updating meta descriptions and website content and created new content to be included and distributed online.
Article submissions & Backlink Development
As content was finalized, we started to place this content on various websites online to help increase traffic back to the Family Dentistry website. These included blog sites, Q&A forums, and trade websites.
Additional local directory account creation
With the new list of focus keywords and key terms, we were now able to update the existing local directories placements they also had and register for new ones monthly.
The Results of SEO for Family Dentistry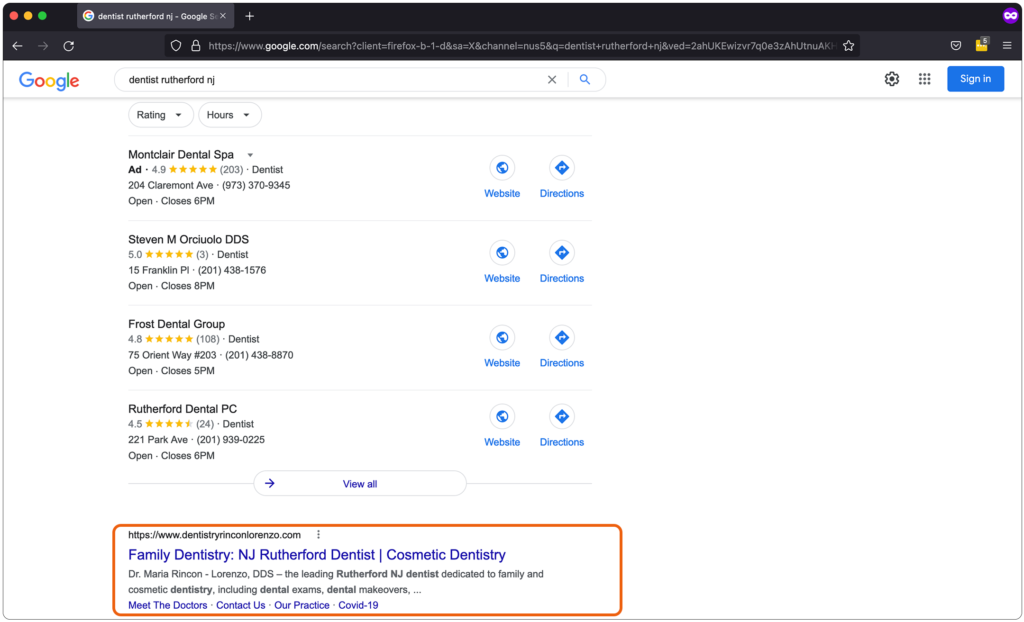 After three months of this Dentistry SEO campaign, we not only helped the client regain the original rankings on Google Maps we also increased several metrics:
Local Listing Calls leads rose from 103 to 139
#1 Ranking Keywords rose from 4 to 34
Total Impressions increased from 12,470 to 32,445
We hope this situation never happens with your business. If it does? Who do you call…
Contact us today for a FREE SEO audit!