ROI is on every business owner's mind! After working with Manhattan Lasik Center (MLC) for their SEO the past year, they finally decided it was time for a more up-to-date website. Their primary focus was on ensuring the new website would have a significant ROI once completed.
For the past year, even with additional SEO services, MLC saw a trend of less traffic to their website. They attributed the dropping traffic to not having a mobile-friendly website. However, with Google's recent Mobilegeddon update, all websites that were not mobile-friendly saw a dramatic drop in Search Engine Ranking.
To produce a mobile-friendly website with a significant Return On Marketing Investment, we put a focused on incorporating the following ten items:
SEO

We put a lot of work into MLC's SEO, so launching a new website, we had to be careful to avoid broken links, resulting in a loss of traffic and Search Engine Ranking. We were able to transfer all SEO pages, allowing MLC to keep their current Google ranking!

Mobile Friendliness!

40 – 50% of all MLC's traffic is from a mobile device. We created a responsive website, allowing potential clients to easily view, read, and fill out forms on any mobile platform.

A chance to engage and connect with more people!

Designed with vivid colors, appealing imagery was a must. We wanted the website to have a modern feel and be easy for someone to get lost in research. While looking at each page on the website, you will find the right side of the page will guide you into finding out more information or a free consultation form.

Easy Navigation!

Everyone is busy. To make it truly easy to navigate, we looked back at the GoogleAnalytics and saw what pages were had the most views most. Then we took those pages, added them to the menu bar, and buttons on other pages. We designed the information to be easy for people to find, fill out forms, and then contact Manhattan Lasik for a consultation.

Capturing Leads

We tried to include plenty of landing pages with forms without looking too pushy to increase the ROI on the site!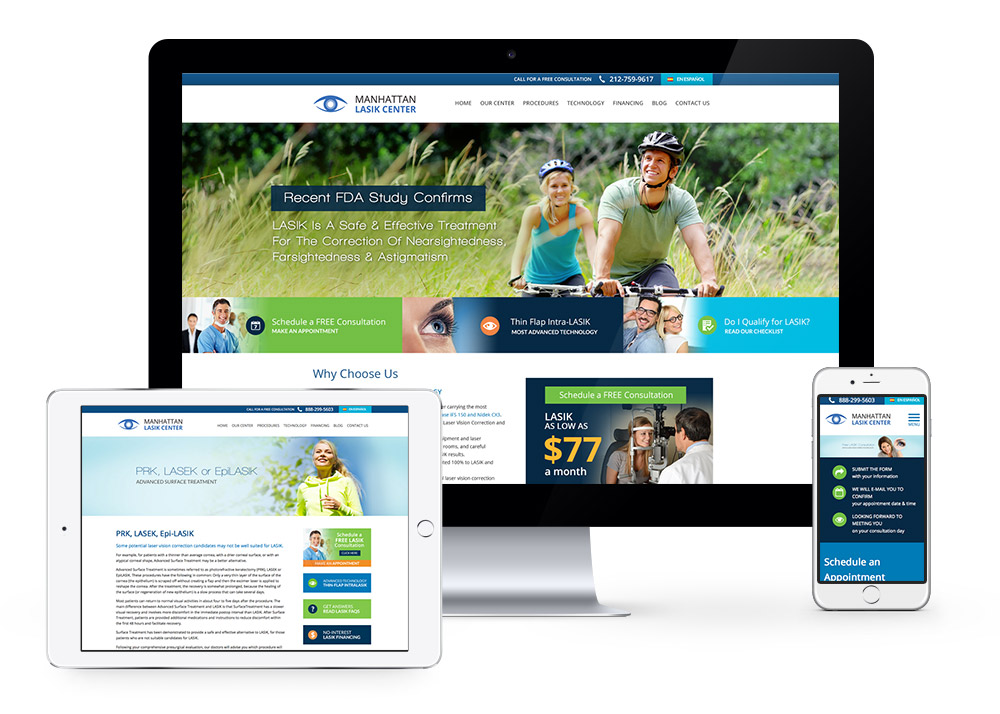 Since we launched this website, we have had nothing but favorable reviews! So, we jolted this out-of-date website into the modern mobile-friendly website world!